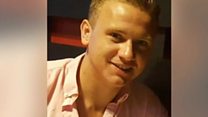 Video
Corrie Mckeague search: Police reveal bin weight error
The bin lorry that picked up waste from the area where RAF airman Corrie Mckeague was last seen was far heavier than first thought, police have said.
Mr Mckeague, from Dunfermline, Fife, went missing after a night out in Bury St Edmunds, Suffolk, on 24 September.
Police believed the lorry which picked up bins near where he was last seen was carrying 11kg (1st 10lb), but now know it weighed more than 100kg (15st 10lb).
Mr Mckeague's mother, Nicola Urquhart, reacted to the news on Facebook, saying: "This can really, devastatingly, only mean one thing.
"I can only pray that Corrie is found quickly and that we are able to get answers as to how this could have happened."