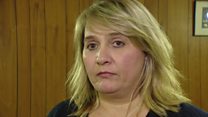 Video
Corrie Mckeague landfill body find 'just a matter of time'
The mother of missing airman Corrie Mckeague has said it is now "just a matter of time" before he is found on a landfill site.
Mr Mckeague, 23, went missing from Bury St Edmunds, Suffolk, last September.
Early investigations initially deemed a refuse vehicle, which collected rubbish bins from an area where the RAF gunner was last seen after a night out, had too light a load to have contained him.
Detectives have since learned the truck was carrying a load "far higher than originally thought".
Nicola Urquhart, the airman's mother, said one thing that kept her belief that her son was still alive was because police reassured her he could not have gone through the process of being taken to landfill.
"It doesn't appear that is the case now, so it is really difficult to accept," she said.
Go to next video: Weight error in Corrie Mckeague probe