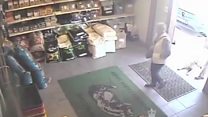 Video
'Twisted' killer Ali Qazimaj traced after international manhunt
A man who murdered a husband and wife was convicted after a jury saw through his "bizarre and unbelievable" claims, police said.
Ali Qazimaj, 43, from Tilbury, Essex, was found guilty following a trial at Ipswich Crown Court.
Peter Stuart, 75, of Weybread, Suffolk, was found stabbed to death near the home he shared with his wife, Sylvia, on 3 June. Mrs Stuart's body has still not been found.
Det Ch Insp Andy Guy said: "The jury saw through the bizarre and unbelievable claims Qazimaj made in the court.
"The assertion that there was another man who looked identical to him, shared the same DNA and handwriting styles, and disappeared at the same time he appeared in Luxembourg is beyond belief."
In a statement, the Stuart family described Qazimaj as a "twisted individual", adding: "We hope you spend the rest of your miserable existence reflecting on the utter senselessness and brutality of what you did to two innocent people."