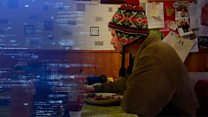 Video
Lauri Love: Hacking suspect fears being 'locked away' from technology
A hacking suspect facing extradition to the US has said being "locked away from technology" would be like "losing his sight".
Lauri Love, who has Asperger's syndrome, is appealing against an extradition order signed last year by the home secretary.
The 31-year-old, from Stradishall, Suffolk, is suspected of hacking into the FBI, the US central bank and Nasa.
Mr Love said: "It is very hard for me to imagine not being able to access information using computers - that's the way I have interfaced with the world since I was able to.
"It would be like losing my sight if I was locked away from technology and only able to use a telephone to call my family once a week."
An appeal against Mr Love's extradition order is expected to be held at the High Court later in the year.