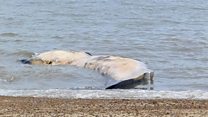 Video
Felixstowe whale to be removed on Wednesday
The body of a whale which washed up at Felxstowe will not be removed from the beach until Wednesday.
The whale - thought to be a fin whale - was reported on Saturday. It is one of a number of sightings reported off the Suffolk coast in recent days.
Zoologists earlier took away samples from the whale for study. Permission has now been given for the removal of the carcass by the government's Marine Management Organisation.
A Suffolk Coastal Norse spokesman said: "Now we have authorisation, removal of the whale is being co-ordinated for Wednesday, with specialist equipment being brought in to complete the removal."