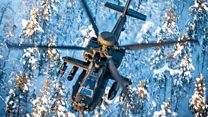 Video
British Army Apaches in first Arctic Circle mission
The British Army's Apache attack helicopters have made their flying debut inside the Arctic Circle.
A six-week training exercise between the Army Air Corps 656 Squadron, 4 Regiment and the Commando Helicopter Force has been operating in Norway with temperatures dropping to -27C.
The Apaches are part of the Attack Helicopter Force, based at Wattisham, in Suffolk.
Maj Huw Raikes, Officer Commanding 656 Squadron, Army Air Corps, said "It's been a challenge and a privilege to bring the Apache into the Arctic for the first time.
"We've been working at the limits of both human and the aircraft's performance."
Go to next video: Campaign medals for Apache crews