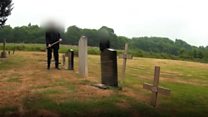 Video
Church destroys headstone of Sussex 'abuse' clergyman
The gravestone of a senior Catholic priest has been destroyed following allegations he abused a young boy.
Canon Dermod Fogarty, who died in 2012, is accused of subjecting Stephen Bernard to four years of abuse in a book written by the Oxford academic.
Dr Bernard claims the abuse started in 1987 when he was 11 years old.
Deirdre McCormack, the canon's next of kin, called for the stone's removal as she felt the epitaph to a "much-loved, wise priest" was a "blatant lie".
The church agreed to remove the stone following a meeting with Ms McCormack and in a statement said it would replace it with a simple headstone.