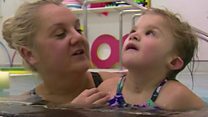 Video
Girl who needed help to breathe enjoys a swim
A seven-year-old girl with a rare medical condition has learned to breathe on her own, enabling her to take to the swimming pool for the first time.
Freya-Bobbie Carr-Wright's illness, called CHANGE, caused structural abnormalities within the heart which need to be surgically rectified. It also left her airways blocked, meaning she needed a tracheotomy to breathe.
Freya also has a number of other conditions associated with the syndrome, affecting her vision and hearing, and she has a curvature of the spine.
She wanted to start swimming which meant her trachea tube would need to be removed and she would have to learn how to breathe on her own through her mouth and nose.
Doctors were not sure she was ready but Freya, from Blaydon, was determined, and, so, over the course of several days at the Great North Children's Hospital, the trachea was gradually removed.
Now she can breathe unaided and, most importantly to Freya, enjoy a swim.