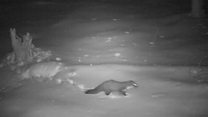 Video
Northumberland pine marten sighting first for 100 years
A wild pine marten has been captured on camera in Northumberland in the first confirmed sighting for more than 100 years, conservationists have said.
What appears to be a male can be seen scent-marking, suggesting it is not the only one.
Project officer for the Vincent Wildlife Trust, Kevin O'Hara, said the sighting meant "the whole world" to him.
"It's absolutely incredible because it's like finding the Yeti," he said.
"This is a very big step for conservation, because nobody's put them here - this is a success story from them breeding in Scotland."
The cameras were set up near Rothbury in December by volunteers Amanda and Neil Tomas.
They used a lure baited with a concoction of sardines, strawberry jam and peanut butter.
The trust's work is part of the UK-wide Back from the Brink project.
The last confirmed local sighting - of a dead pine marten - was at Haydon Bridge in Northumberland in 1905.