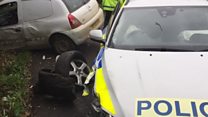 Video
Dashcam footage shows drug dealer smashing into police
Dashcam footage showing the moment a fleeing drug dealer smashed into a police car has been released by Wiltshire Police.
Leroy Harding, 30, crashed into two police cars after a patrol vehicle tried to stop his Renault Clio in Melksham last September.
In a second incident while on bail, he was clocked doing speeds of more than 100mph with only three wheels as officers pursued him along the A350.
PC Joe Shanklin, said: "Having crashed with the police car that I was driving, Harding continued to drive with a flagrant disregard for the law.
"It was extremely fortunate that on both occasions nobody was injured as a result of his mindless and selfish actions."
Harding, of Moorfields Road, Bath, was jailed for five years after pleading guilty to two charges of dangerous driving and possession with intent to supply class A drugs.