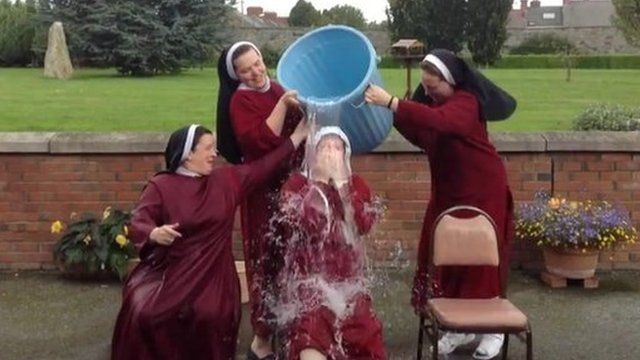 Video
Ice bucket challenge: Redemptoristine nuns get in on the act
It was a sister act with a difference.
It involved six Irish nuns, a bucket, a bowl, a blue bin and ice cold water.
The women, members of the Redemptoristine Order, based in Dublin, joined in the ice bucket challenge, a craze that is sweeping the nation.
Three of them lined up to be soaked and the other three - one with a walking frame - poured cold water over them.
There were squeals and peals of laughter as the women gleefully accepted their challenge.
The nuns are members of an enclosed, contemplative community of religious women and would not do any interviews about the challenge.
But they do have a Facebook page and website where they say their monastic day is passed in prayer, work and friendship with one another.
So, maybe it was fitting that when the challenge was over, and they were all dripping wet, the nuns waved goodbye and one of the nuns was heard to exclaim: "Oh Lord'.
Video courtesy Redemptoristine Nuns, Dublin
Go to next video: Obama refuses ice bucket challenge