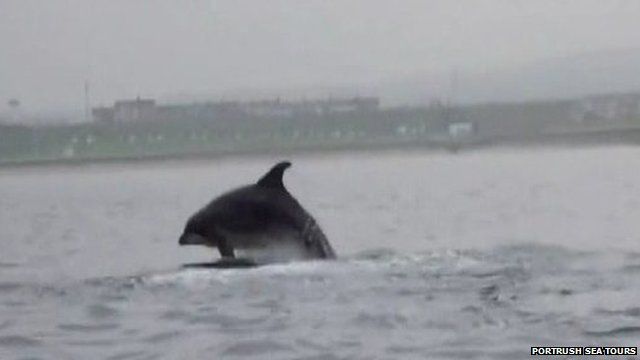 Video
Dolphin pod filmed close to Portrush, County Antrim
A large group of dolphins has been filmed swimming very close to the County Antrim coastline.
The footage was recorded by Betty Rankin, from Portrush Sea Tours, on Thursday morning.
Ms Rankin estimated that about 30 dolphins were in the group.
She was on her family's boat in West Bay, Portrush with her father Crawford Rankin, when the pair were surrounded by the animals at about 10:30 BST.
She captured the incident on her camera and posted the video on social media, where it has been gathering a lot of attention.
Her mother, Pearl Rankin, said it was "very unusual" and "amazing" to see so many dolphins so close to the shoreline.
The family said the dolphins stayed in the bay for about a hour.