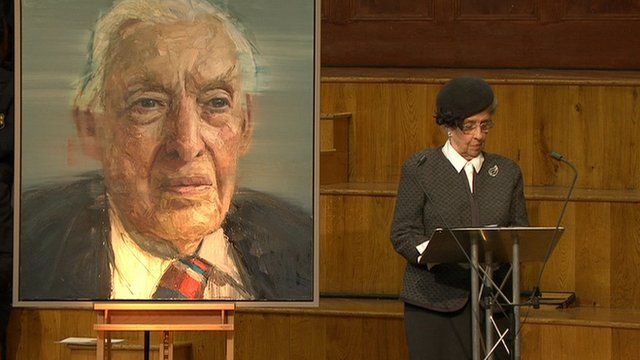 Video
Family tributes to Ian Paisley at memorial service in Belfast
Family members have been paying tribute to former first minister Ian Paisley at a memorial service in Belfast.
Mr Paisley, the founder of the Democratic Unionist Party, died on 12 September at the age of 88.
His widow, Eileen, told guests at the service that her husband was "a big man with a big heart" concluding that their family "couldn't ask for more".
His son, Ian Paisley Jr MP, said his father "spoke plainly, and was understood" before recalling a letter he received from former prime minister John Major.
Rev Kyle Paisley said that the Free Presbyterian Church and Democratic Unionist Party "reached their pinnacle at the point Ian Paisley left them".
The service was attended by more than 800 guests including Northern Ireland's first and deputy first ministers Peter Robinson and Martin McGuinness and Secretary of State Theresa Villiers.
Go to next video: Memorial service for Ian Paisley