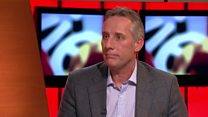 Video
Ian Paisley thanks ex-IRA leader McGuinness
Democratic Unionist Party MP Ian Paisley praises Martin McGuinness, former IRA leader turned politician, who is retiring from front-line politics.
Mr Paisley, son of former first minister Dr Ian Paisley, said Mr McGuinness's "remarkable journey not only saved lives, but made the lives of countless people better".
Mr McGuinness forged a friendship with the late Dr Paisley when they shared power at Stormont, despite previously being sworn enemies.
When Dr Paisley died, Mr McGuinness said he had lost "a friend".
On Thursday, Mr McGuinness confirmed he would not stand in the Northern Ireland Assembly election citing health issues.