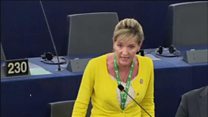 Video
'Stick border where sun doesn't shine' says Martina Anderson
Sinn Féin MEP Martina Anderson addressed the European parliament, rejecting any kind of border in Ireland after Brexit.
She said rather than listen to concerns over Brexit, Ireland had been told to "get over it" and added "no border hard or soft would be accepted in Ireland".
Referring to Prime Minister Theresa May, she said: "Theresa, your notion of a border, hard and soft, stick it where the sun doesn't shine 'cos you're not putting it in Ireland."
Her comments came after a vote in the House of Commons paved the way for the government to trigger Article 50.