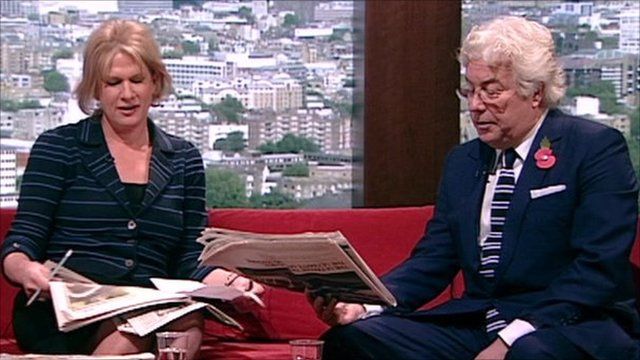 Video
Andrew Marr Show Paper Review
Andrew Marr reviews the Sunday papers with Times columnist Ann Treneman and novelist Ken Follett.
During the newspaper review on 24th October, Ken Follett referred to an item in Peter Hitchens' column in the Mail on Sunday, about the Rolling Stones guitarist Keith Richards - in which Mr Hitchens argued that the rock and roll culture of the 1960s had seriously damaged British society.
Mr Follett asserted that "[Peter Hitchens] thinks that Keith Richards has killed more people than the Iraq war".
We would like to make clear that this was a misquotation, which misrepresented Mr Hitchens' views - and we are sorry that this was not corrected at the time.
What Mr Hitchens in fact wrote was that Keith Richards' exoneration in 1967 on drugs charges "may not have killed as many people as the Iraq War. But it helped to ruin many lives, and still does so."
You can read Peter Hitchens' article in full here.
Watch the whole programme at the Andrew Marr Show website