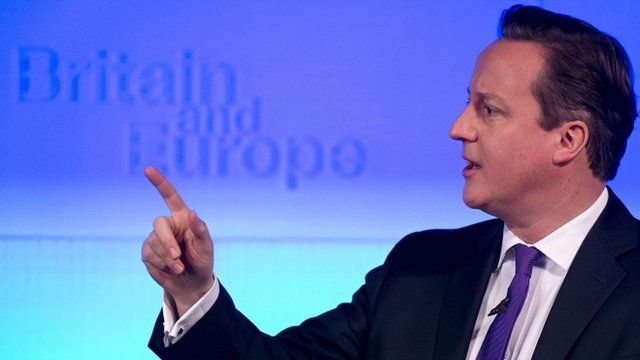 Video
Lord Mandelson: PM is 'treating the EU like a cafeteria service'
David Cameron has said there will be a referendum on whether Britain should stay in the European Union, if the Conservatives win the next general election.
The prime minister said he wanted to renegotiate the UK's relationship with the EU, before asking people to vote.
The British people would face a "very simple choice" either to accept the result of the talks, or to leave the EU altogether, he said.
Talking to Today presenter James Naughtie, the Labour peer and former European commissioner, Lord Mandelson, said Mr Cameron had given game, set and match to the hardliners in the Conservative party.
"The question is, is this the best way to set about creating alliances, a shared agenda, and getting what we want from Europe," he said.
He added that Mr Cameron is "treating the European Union like a cafeteria service, in which you arrive with your own tray and try to leave with what you want."
Lord Mandelson was speaking on the BBC Radio 4's Today programme, broadcast on Wednesday 23 January 2013.