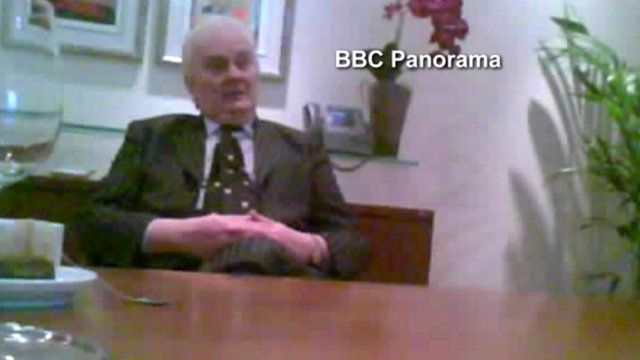 Video
Lord Laird resigns Ulster Unionist party whip
Three peers have been accused of agreeing to carry out Parliamentary work for payment.
Undercover Sunday Times reporters filmed the men appearing to offer to help a fake solar energy company.
The two Labour peers have been suspended from the party and Lord Laird has resigned the Ulster Unionist party whip pending an investigation. He and Labour's Lord Mackenzie of Framwellgate and Lord Cunningham, all deny wrongdoing.
Lord Laird was approached by a fake lobbying company set up by BBC Panorama in conjunction with the Daily Telegraph which claimed to be representing business interests in Fiji.
They asked him if he was interested in being paid to work for them. He said that he would be interested in accepting a retainer at £2,000 a month.
He discussed with undercover reporters how he would get other people to raise questions in the House of Lords.
Go to next video: Peers 'offered to lobby for firm'