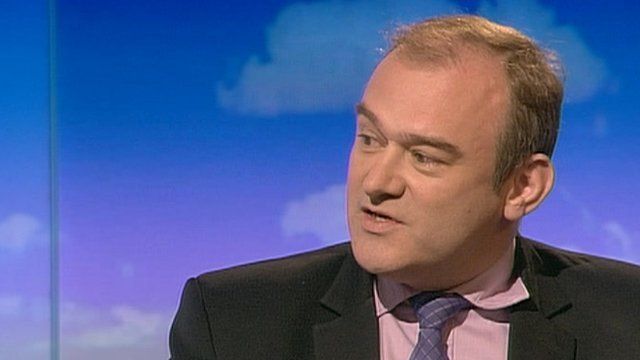 Video
Ed Davey on energy bill and government carbon target
The government is legislating for a decarbonisation target, the energy and climate change secretary said, as a Tory MP tabled an amendment against the coalition's energy bill.
Ed Davey said Lib Dems should back the coalition bid for action in 2016, and he explained why he thought there were problems with setting a target next year, ahead of a fifth carbon budget.
The Lib Dem MP claimed the "whole coalition supports decarbonisation" and stated the government position after Tim Yeo explained his call for Tories and Lib Dems to back him.
MORE FROM THE DAILY & SUNDAY POLITICS
Watch more clips of films and interviews, the Sunday Interviews with Andrew Neil, our soapbox films, or 'like' us on Facebook page; 'follow' us on Twitter or see full programmes from the last seven days via BBC iPlayer
Go to next video: Carbon target 'could lower energy bills'