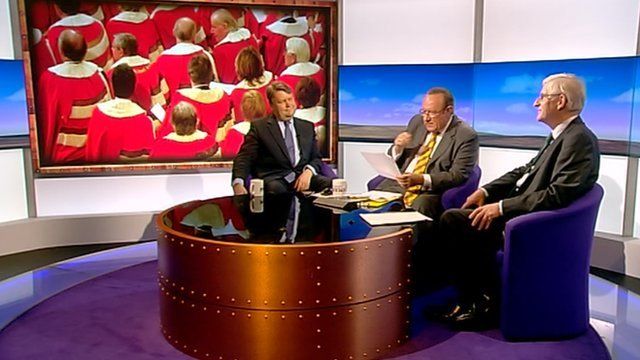 Video
House of Lords reform: Lord Strathclyde and Ben Stoneham
A former leader of the House of Lords said he was misquoted on his resignation about the "coalition breaking down" but admitted there was a "substantial disagreement about reform".
Lord Strathclyde debated whether parties would continue with the "same old story" and whether there would ever be a reform of the Upper House, after he said the House of Commons came up with a "historic fudge" last time.
He spoke to Andrew Neil and Liberal Democrat whip Lord Stoneham.
MORE FROM THE DAILY & SUNDAY POLITICS
Watch more clips of films and interviews, the Sunday Interviews with Andrew Neil, our soapbox films, or 'like' us on Facebook page; 'follow' us on Twitter or see full programmes from the last seven days via BBC iPlayer
Go to next video: Peers reject boundary reform for MPs