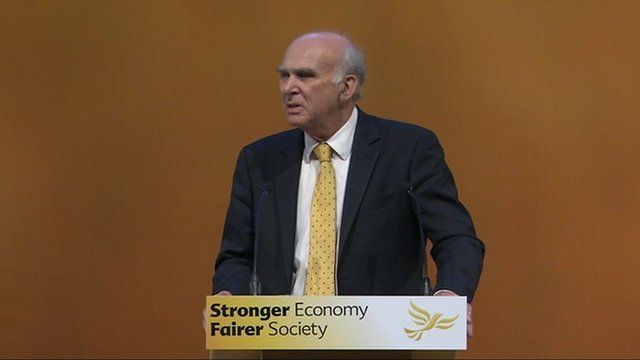 Video
Lib Dem conference: Vince Cable attacks Conservatives
The business secretary has attacked his party's coalition colleagues, reminding them of Theresa May's previous description of the "nasty pasty", claiming it had "reverted to type".
And Vince Cable called the Conservative election strategist Lynton Crosby "an Australian rottweiler" who promoted "dog-whistle politics".
Mr Cable told the party conference delegates in Glasgow that they had risked "liberal tradition" working with the Tories, but said it had been right to do so in a national emergency.
After further attacks on the Conservative Party, he said: "That is not our kind of politics; it is ugly and we will not be dragged down by it".
BBC party conference coverage index
More from the Daily Politics: Watch full programmes from the last seven days via BBC iPlayer; 'like' us on Facebook page or 'follow' us on Twitter
Go to next video: Lib Dems prefer Tory, Labour or neither?