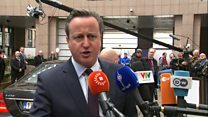 Video
PM: UK would still be affected by migrant crisis if outside EU
The UK would still be affected by the migration crisis facing Europe if it voted to leave the EU in the upcoming in-out referendum on 23 June, David Cameron has said.
The prime minister was speaking to reporters on the way in to an emergency summit of European and Turkish leaders to try to stem the flow of migrants reaching Europe.
He also said there was "no prospect" of the UK joining the EU's common asylum system, saying the UK had its own approach.
"Even outside the EU we would be affected by a migration crisis like this, but at the end of the day we maintain our borders and our own way of doing things because we have the best of both worlds," he added.
Go to next video: Migrants living in abandoned homes