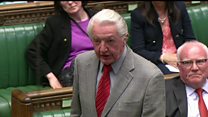 Video
Dennis Skinner kicked out of Commons for Cameron jibe
A Labour MP has been suspended from the Commons chamber for the rest of the sitting day after his "dodgy Dave" jibe over the prime minister's tax affairs.
Dennis Skinner made the comment about David Cameron during the PM's statement on the Panama Papers leak, in which Mr Cameron defended his father's offshore investment fund, saying a distinction must be drawn between enterprise and "artificially reducing tax".
Asked to withdraw the remark- considered unparliamentary language - by Commons Speaker John Bercow, Mr Skinner refused - and instead chose to repeat it.
"Do what you like," he could be heard saying, before walking out of the chamber as Mr Bercow announced his suspension.
It is the fifth time Mr Skinner, the MP for Bolsover, has been sent out of the chamber.
Go to next video: Cameron's critics 'hate the wealthy' - MP