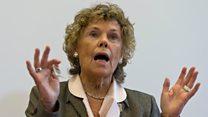 Video
Hoey: Shah should resign from committee over Israel post
Labour MP Naz Shah has been urged to resign from a key Commons committee over a Facebook post suggesting Israel should be moved to the United States.
Ms Shah has apologised for sharing the graphic showing Israel's outline superimposed onto a map of the US with the comment "problem solved". It was shared in 2014, before she became Bradford West MP.
Labour MP Kate Hoey told Shaun Ley on the World at One that Shah should resign "right away" from home affairs committee over Israel post and "it may well be" that the whip should be suspended.
Go to next video: Naz Shah: I truly regret what I did