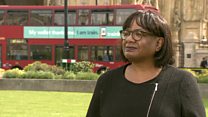 Video
Diane Abbott on England and Scotland election results
Diane Abbott said Labour's elections results under Jeremy Corbyn were "the beginning of something, it's not the end of everything".
When BBC assistant political editor Norman Smith asked about the performance of past Labour leaders at their first elections, she said it was "not comparing like with like".
The shadow international development secretary said there was now a more fragmented electorate with the rise of UKIP and nationalist parties.
She described the results as "steady progress" and said the party was "on track to win in 2020".
Go to next video: Farage: Biting quite hard into old Labour vote