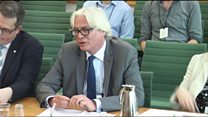 Video
Boaty McBoatface row 'good for science', MPs told
The controversy over the naming of a new polar research vessel was an "astoundingly good outcome" for public interest in science, MPs have heard.
The National Environment Research Council defended its decision to hold a public vote to suggest names, in which Boaty McBoatface got the most support.
Professor Duncan Wingham said the row had "put a smile" on people's faces.
But MPs asked if he would be made to "walk the plank" by ministers, who chose to name it after David Attenborough instead.
Prof Wingham was giving evidence to the Commons Science and Technology Committee about the episode, which attracted huge public interest and divided opinion after Boaty McBoatface was passed over.
He said that ministers' decision to name the vessel after the eminent zoologist and broadcaster David Attenborough - who came fourth in the poll - while allowing Boaty McBoatface to live on by naming a remotely operated sub-sea vehicle after it was an "eloquent compromise".