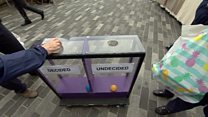 Video
EU referendum: Kingston upon Thames voters on campaigns
Voters in Kingston-upon-Thames are asked if they know how they will vote next Thursday, as British voters get to choose if they want to remain in, or leave, the European Union.
Daily Politics reporter Mark Lobel does not ask which way they will vote, but if they have already made up their mind, or whether campaigners have a chance to win them over.
He wheeled along the mood box, a plastic bin with balls, in an unscientific test of public opinion.
We are on twitter and Facebook, and you can look at previous clips or watch full programmes on iPlayer
Go to next video: What does 'stroppy' Cornwall make of the EU