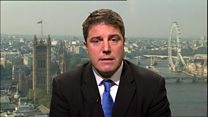 Video
EU Yorkshire and Humber seat legal action by Alex Story
Former candidate Alex Story is considering further legal action against a decision not to make him a Conservative MEP.
The former Olympic rower told Daily Politics presenter Jo Coburn it would have been a "huge honour" to represent Yorkshire and the Humber for the time the UK remains part of the EU.
The vacancy arose after Timothy Kirkhope was given a seat in the Lords by David Cameron. His seat would normally go to Mr Story as the person who came second in the Conservative list for the region at the 2014 European elections.
But the party has instead chosen the man who came third on the list, Leeds councillor John Procter.
More: Follow @daily_politics on Twitter and like us on Facebook and watch a recent clip and watch full programmes on iPlayer
Go to next video: What comes next on UK's road out of EU?