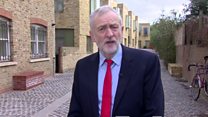 Video
Why Labour leader Jeremy Corbyn thinks party could win snap election
Jeremy Corbyn has told the BBC's Victoria Derbyshire programme that the Labour Party would consider agreeing to a snap general election.
The comments from the Labour Party leader come after former Conservative leader Lord Hague's comments that such an act "would strengthen the government's hand at home and abroad" which could help with Brexit negotiations".
A No 10 source told the BBC it was not something Prime Minister Theresa May "plans to do or wishes to do".
The next election is due in May 2020 under the Fixed-term Parliaments Act.
You can see the full interview here.
Watch the Victoria Derbyshire programme on weekdays between 09:00 and 11:00 on BBC Two and the BBC News Channel.
Go to next video: 'I won't call a snap election' - May