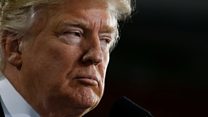 Video
'He fails to understand branches of government'
Joy Buenaventura, vice-chair of the Judiciary Committee in the Hawaiian House of Representatives, tells Today that she thinks that President Donald Trump's attempt to ban people from six predominantly Muslim countries from entering the US, shows that he does not "understand the three branches of government".
The President's plan has faced another set back following US District Judge Derrick Watson blocking the policy, arguing there was only "questionable evidence" in the government's argument that the ban was a matter of national security.
President Trump described the ruling as "unprecedented judicial overreach".
Go to next video: Trump's new travel ban