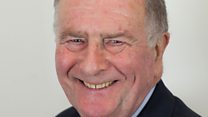 Video
The MP who calls his secretaries 'girls'
Sir Roger Gale, Conservative MP for Thanet North, came on the Today programme to discuss moves to prevent newly elected MPs from employing spouses and other relatives using taxpayers' money.
But attention quickly turned to his use of the word 'girls' when describing women who worked alongside his wife in his office. His name trended on Twitter, with many users saying his language was sexist.
We contacted Sir Roger after the programme who said the girls found the furore "hysterical". When he asked them if they mind the term, they told him they "love it".
Go to next video: Election expenses: 'I find the timing astonishing'