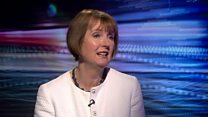 Video
Harman: Labour still 'institutionally' male dominated
Labour's former deputy leader and ex-interim leader Harriet Harman has criticised the party for a lack of progress on women taking top jobs in the party.
She told Hardtalk's Sarah Montague: "Institutionally the Labour party like most other parties and most other organisations is still male dominated and the change has still got further to go and it is evident right at the top - not only a male leader, but a male deputy leader and a male shadow chancellor. The structures are hard to change."
It was embarrassing for Labour that the Conservatives now had their second female leader, she said, but it was "slightly easier to be a woman in the Conservative party if you're part of a genre of women who are not really challenging the status quo - you are beating the men on their own terms".
You can see the interview in full on Tuesday March 21 2017 on BBC World News and the BBC News Channel and after on BBC iPlayer (UK only).