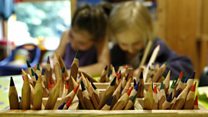 Video
Anger at media focus on Corbyn's childcare cost stumble
Labour's Barry Gardiner has shown his annoyance that Radio 4's The World at One chose to lead on the story that Jeremy Corbyn stumbled over the cost of his party's free childcare plan during an interview with Woman's Hour.
The shadow international trade secretary told Martha Kearney that "when Theresa May put in her manifesto that you could provide a breakfast for a child at 6.8p... nobody thought that was worthy of being the lead story."
He added that Chancellor Philip Hammond got the cost of HS2 wrong, saying: "Politicians are having to remember lots of different figures all the time, sometimes they get it wrong."