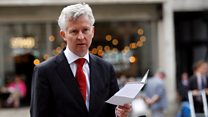 Video
Charlie Gard is 'still fighting', says family spokesman
The parents of terminally-ill baby Charlie Gard will continue to battle for him to have experimental treatment for as long as "he is still fighting", a spokesman for the family has said.
Lawyers representing Charlie's parents have returned to the High Court in London to present what they say is new evidence showing an experimental treatment could help him.
Charlie has a rare genetic condition, infantile onset encephalomyopathy mitochondrial DNA depletion syndrome (MDDS).
Reading a statement outside court, on behalf of Charlie's parents, Connie Yates and Chris Gard, spokesman Alasdair Seton-Marsden, said: "We hope that the judge and the courts will finally rule in favour of us seeking treatment elsewhere.
"If he is still fighting, then we are still fighting."
Doctors at Great Ormond Street Hospital say they have explored various treatment options and none would improve Charlie's quality of life and he should be allowed to die.