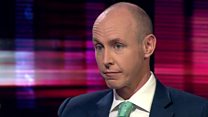 Video
Hannan: 'We want a friendly bilateral deal' with ECJ
The UK is working towards an arbitration mechanism that is similar to Switzerland or Norway and a mutual applicability of each other's judgements, Conservative MEP Daniel Hannan has told BBC Hardtalk's Stephen Sackur.
Speaking on Tuesday the Brexit MEP said that the European Court of Justice (ECJ) is the only court that can override the national internal statutes of a member country.
"No-one is looking at staying in the ECJ on those terms - what we want is to have a friendly, bilateral deal with it," he said.
UK Prime Minister Theresa May has insisted that the jurisdiction of the ECJ in the UK will come to an end with Brexit.
Critics say it will be impossible to avoid European judges having a role in enforcing new agreements drawn up with the European Union.
Reality Check: What is the European Court of Justice?
Watch the full interview on BBC World News and the BBC News Channel on Wednesday 23 August 2017 or watch again on BBC iPlayer (UK only)
Go to next video: Raab: UK should keep 'half an eye' on EU law