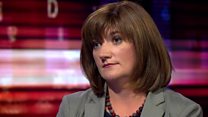 Video
Nicky Morgan: 'Difficult' for PM to lead at next election
It is going to be difficult for the UK Prime Minister Theresa May to lead the Conservatives into the next general election, the chair of the Treasury select committee has told BBC Hardtalk.
The Conservatives need to think "how to renew our franchise," Nicky Morgan told Shaun Ley.
Ms Morgan said: "If that means the prime minister has to bring in new people in order to do that, to have that fresh policy thinking we shouldn't be afraid of that."
Prime Minister May has told the BBC she intends to remain in power "for the long term".
Last year she sacked Ms Morgan as education secretary.
Tory MPs sceptical about PM's election ambitions.
You can see the interview in full on Hardtalk on Thursday 31 August on BBC World News and the BBC News Channel and on BBC iPlayer (UK only).
Go to next video: Theresa May: 'I'm here for the long term'