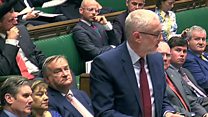 Video
Brexit: Jeremy Corbyn on May's European Council statement
Labour leader Jeremy Corbyn said there was a "worrying sense of Groundhog Day" about the prime minister's Brexit progress updates.
Responding to Theresa May's statement on the European Council, he called on her to "do the right thing" and guarantee the rights of EU citizens in the UK, regardless of Article 50 negotiations.
And he said some in the EU "need to stop briefing out astronomical and unacceptable numbers" about future payments from the UK to the EU.
He said: "Only Labour can negotiate a Brexit and deliver an economy that puts jobs and living standards first."
Go to next video: 'In touching distance' of citizens' right deals