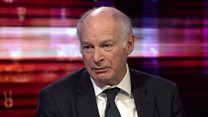 Video
'Depressed' by Article 50 ruling reaction
The former president of the UK Supreme Court Lord Neuberger has told BBC Hardtalk the reaction by politicians to the High Court's decision in November 2016 was depressing and that the general mood was "very feverish".
The High Court had ruled that only Parliament, not ministers, had the power to trigger the UK's exit from the EU because that was where laws were made. This view was upheld by the Supreme Court in January 2017.
After the government lost the Article 50 case at the High Court, a Daily Mail headline called the three judges in the case "enemies of the people".
Lord Neuberger said that some of the statements made at the time were "foolish" and "laughable". He has previously criticised politicians for not doing enough to defend judges following the row over the Brexit legal challenge.
You can see the interview in full on BBC iPlayer (UK only).
Go to next video: 'We should stay in the customs union'