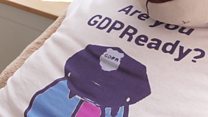 Video
General Data Protection Regulation online data rules
Many people have received dozens of emails this week asking for permission to be able to use their data, to comply with General Data Protection Regulation (GDPR) rules.
The EU's new data laws are effective from Friday, and they also cover politicians and political parties in how they collect and use information.
The Daily Politics heard from the campaign group 38 Degrees to see what GDPR means for its future campaigns.
More from the Daily and Sunday Politics: Watch full programmes from the last 30 days via BBC iPlayer; 'like' us on Facebook page or 'follow' us on Twitter
Go to next video: What will GDPR mean for you?