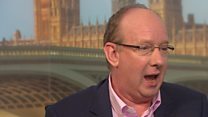 Video
Lord Finkelstein on UK Conservatives role in Hungary vote
The actions of most Conservative MEPs in a vote in the European Parliament to censure the Hungarian government was "a very distressing moment" said a Tory peer.
Lord Finkelstein called on his colleagues to rethink their decision, which he said was hypocritical, while Labour's Lord Adonis said Conservative members were uneasy with the actions of their MEPs.
Politics Live presenter Jo Coburn also heard from the Spectator's Katy Balls on the reaction from Downing Street.
Overall, More than two-thirds of MEPs backed the censure motion against Viktor Orban's government, which has denied accusations of attacks on the media, minorities, and the rule of law.
Go to next video: Hungary PM: Win is chance to defend country