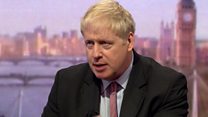 Video
Brexit: I feel deep sense of responsibility, says Boris Johnson
Boris Johnson has said Theresa May "can do much, much better" than her Brexit deal with the EU.
Appearing on the BBC's Andrew Marr Show, the ex foreign secretary, urged the PM to renegotiate with the EU if her deal is rejected by MPs on Tuesday.
He said it "absolutely breaks my heart to think that after all we fought for... that we should consign ourselves to a future in which the EU effectively rules us in many, many respects".
Asked whether he would take responsibility if jobs were lost in a no-deal scenario, Mr Johnson, a leading member of the Leave campaign, said: "Do not underestimate the deep sense of personal responsibility I feel for Brexit, and for everything that has happened."