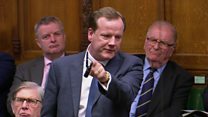 Video
Brexit: Elphicke and Cooper ask PM about Article 50
The prime minster was questioned about extending Article 50, and so pushing back the UK's exit from the EU.
Conservative MP Charlie Elphicke asked his leader to "rule out any extension to Article 50".
Labour's Yvette Cooper claimed the credibility of the PM was "very limited" after pulling a planned vote in December, and she added: "We need some clarity now."
Theresa May said extending Article 50 "does not rule out no deal", and the only way to stop a no deal outcome would be to revoke Article 50, or to agree a deal.
Go to next video: Corbyn would negotiate a customs union