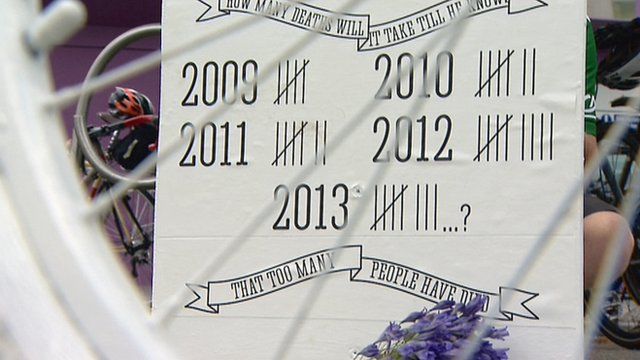 Video
Cyclists on the dangers of motorists' punishment pass
The Crown Office has lost its appeal against the sentencing of a man whose driving has caused the deaths of two cyclists.
Gary McCourt was banned from driving for five years and ordered to carry out 300 hours of community service after being convicted of causing the death of Audrey Fyfe, 75, in Edinburgh in 2011.
Prosecutors argument that the sentence was too lenient, but their appeal was rejected by judges in Edinburgh.
McCourt had been jailed for two years for a similar offence after the death of 22-year-old George Dalgity in 1985.
The Scottish government launched The Nice Way Code in July to promote a 'culture of tolerance' among road users.
BBC Scotland's John Beattie has been meeting a group of cyclists in Glasgow to hear their experience on Scotland's roads.
They told him of the dangers they face including 'the punishment pass': "It is good luck, not good judgement, a lot of the time...that an accident has not happened."
Go to next video: Crown loses cyclist killer appeal