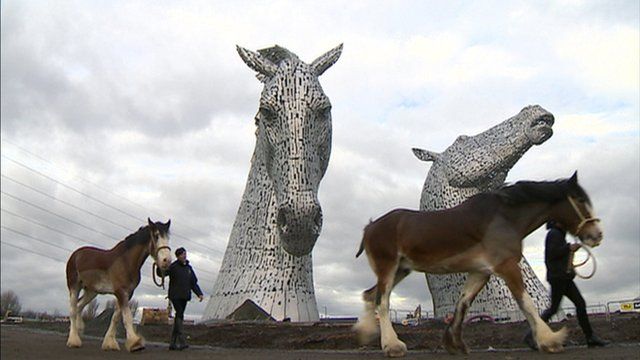 Video
The Kelpies - the world's biggest equine sculptures
Construction work on The Kelpies, the tallest sculptures in Scotland and the biggest equine sculptures in the world, has finished in Falkirk.
The 30m high, 300 tonne steel horse structures are visible for miles around.
Sculptor Andy Scott said: "They are quite cinematic, the way that they sit in the atmosphere, if it is misty or if it is raining they actually sit in the atmosphere in a way I could never imagine."
Visitors will have the chance to look at them up close when they open to the public in spring 2014.
BBC Scotland's arts correspondent Pauline McLean reports from the new £46m Helix Park.
Go to next video: Building Andy Scott's 30m Kelpies