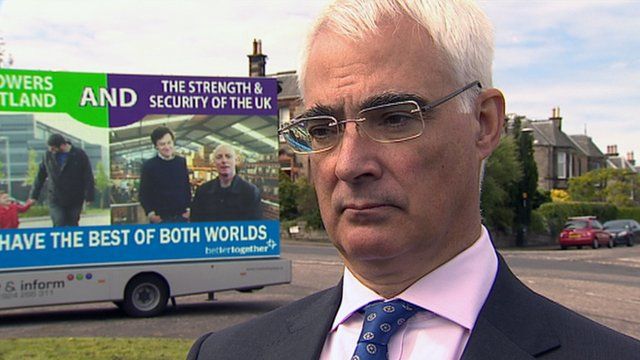 Video
Scottish independence: Darling will 'continue to lead' Better Together
Alistair Darling has said he will continue to lead the Better Together campaign until the Scottish independence referendum on 18 September despite newspaper speculation that he had been "sidelined".
The Daily Mail claimed on Tuesday that Mr Darling had "effectively been replaced" as leader of the pro-UK campaign by Douglas Alexander, Labour's shadow foreign secretary.
The newspaper said the move had been made amid concern over what it described as the "lacklustre" performance of Mr Darling, a former chancellor, in opposing the pro-independence campaign.
Mr Darling told the BBC's Allan Little: "It was my decision to bring in a number of people to strengthen our campaign as we go into the final stages."
He added: "I intend to continue to lead this campaign as I have done for the last two years, and I will lead it right up until the 18th of September".