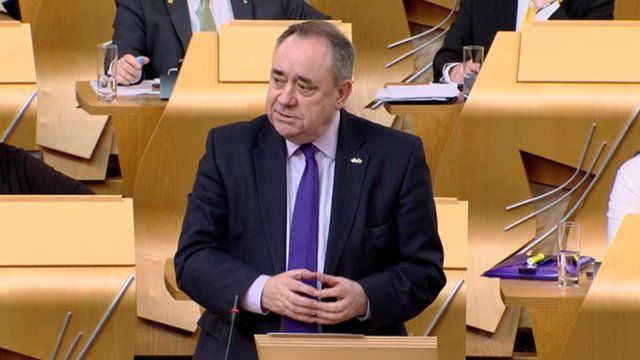 Video
Alex Salmond's last speech in the Scottish Parliament
Alex Salmond, the former Scottish first minister and SNP leader, has delivered his final speech in the Scottish Parliament.
Mr Salmond will be stepping down as an MSP ahead of the election on 5 May, but will remain as an MP at Westminster.
He used his last speech at Holyrood to welcome the devolution of further powers under the Scotland Bill, but again claimed it did not match the promises that were made ahead of the independence referendum.
But there was humour too, as he wished good luck to all of those standing for election in May - but admitted he was saying that with "varying degrees of enthusiasm".
Mr Salmond concluded by saying it was "goodbye from me... for now"
Presiding officer Tricia Marwick, who was visibly emotional, told Mr Salmond that parliament "will be a much duller place without you and we wish you well".