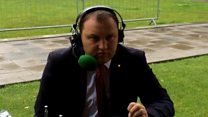 Video
Ian Murray: 'Scottish Labour supports Sturgeon on EU'
Several members of the shadow cabinet have resigned in protest at Labour leader Jeremy Corbyn's handling of the EU referendum.
Among them is the only Scottish Labour MP Ian Murray.
The former shadow secretary of state for Scotland told BBC Good Morning Scotland that the party stands behind Nicola Sturgeon in her attempts to protect Scotland's interests: "We will support the first minister as the Scottish Labour Party to make sure that Scotland's jobs, Scotland's economy is protected by this utterly dreadful decision by the Conservative Party to put their party first before the country."
Go to next video: Divided views on Sturgeon's approach