Media player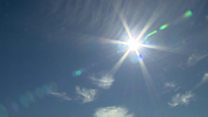 Media playback is unsupported on your device
Video
Vitamin D supplements advised for all
Health officials have been urging the public to consider taking vitamin D supplements in autumn and winter.
New recommendations from Public Health England, and reflected in NHS Scotland's guidelines, say there is not enough sunlight between October and March to guarantee adequate natural production of the vitamin.
Deficiency can cause rickets in children and osteomalacia in adults.
Devi Sridhar, professor of global public health at the University of Edinburgh, told BBC Scotland that everyone should aim for 10 micrograms each day.
Listen to the full interview on BBC Good Morning Scotland.