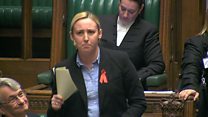 Video
Mhairi Black MP appalled at public purse paying for palaces over pensions
SNP MP Mhairi Black has criticised the UK government's change to the age at which some women qualify for the state pension.
Under the 1995 Pensions Act, the state pension age for men and women is proposed to be 65 by 2020.
Some women born between April 1951 and 1960 will not qualify for a pension until the age of 66.
It has sparked protests from Women Against State Pension Inequality (Waspi).
Speaking during a House of Commons debate, the MP for Paisley and Renfrewshire South, said: "It's a ridiculous notion that we can afford to fork out money for palaces, literal palaces like this and Buckingham Palace, but we can't pay pensions - it's a joke."
The change is the most viable option, says the government.
Richard Harrington MP said the government has considered more than 25 options in relation to Waspis and all were ruled out due to the cost, complexity or practicality.
The Parliamentary Under-Secretary of State for Pensions said: "The luxury of opposition is promising everybody money without having to consider how to pay it."