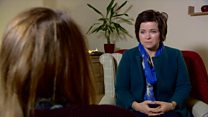 Video
Sarah: 'I wasn't the stereotype that people believe rape victims are'
A new campaign aimed at destroying the "myths" and misconceptions around rape has been launched.
The campaign aims to educate the public, and future jurors, that when facing a violent or sexual assault many people freeze rather than fighting back.
From April judges in Scotland will direct the jury, in such cases, to consider that many victims freeze and may take years to report rape to the police.
Sarah was attacked by a friend of a friend. She told BBC Scotland correspondent Lucy Adams that she was reluctant to come forward at first.
Go to next video: Campaign aims to educate rape case jurors